Winter 2017 Registration Opens 4pm Today
Registration for our Winter 2017 January – March LEGO Robotics Programs opens at 4pm today, November 8th. Here are the links to the schools:
Coming soon: General Gordon Elementary
Calendar Tip – Copy Our Google Calendars to stay up to date
To help you keep track of the dates on your personal calendars, you can chose to copy a specific calendar for a school session directly to your calendar by going to our Calendar on the website, then clicking on the school event, then selecting "copy to my calendar". See screenshot here: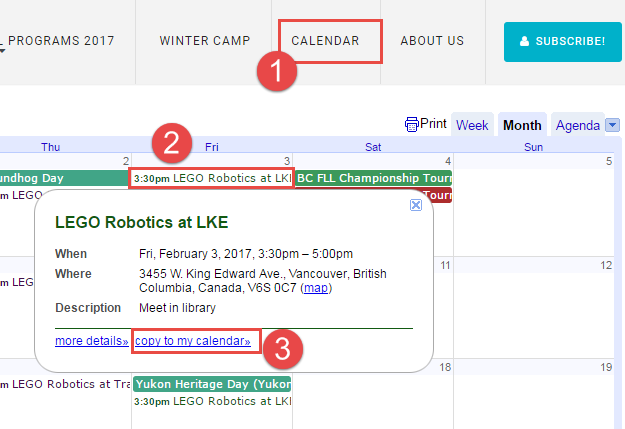 Winter Camp 2016 – December 19th-23rd
We still have spots open for our 1 week Robotics winter camp. Register here: Winter Camp 2016. And here's one of the many robotic contraptions your kids could be making: Santa Claus's LEGO Mindstorms Sleigh
Help us be Best on the Block!
Please consider giving us a review on Chatterblock from now until January 15th, 2017. You'll get a chance to win a $100 Amazon gift card from Chatterblock. Write your review here: Review Us on Chatterblock. Thanks!