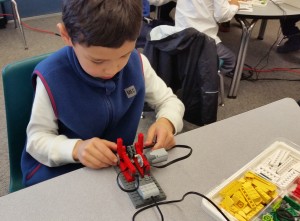 Program Description: LEGO® Education WeDo Introductory Robotics introduces students to basic robotics concepts and programming skills within the STEM Curriculum. Students combine LEGO Bricks with robotics parts (motors and sensors connected via USB to laptops) and then learn to operate them using visual programming software. On the way student learn key skills such as computational thinking, problem solving and teamwork skills. Students go through progressively challenging levels in the LEGO® Education WeDo Introductory Robotics program:
Getting Started with Gears, Levers, Belts and Sensors,
Themed Building Activities,
WeDo RoboCamp Tutorials
WeDo Scratch Programming
Creative STEM Projects
Students' skills are assessed at the beginning of the program and are put into the appropriate challenge level. Returning students move to the next challenge level in the robotics program.
Grade 3 students will move on to doing more advanced projects with LEGO WeDo 2.0.
LEGO Mindstorms Robotics
For Mindstorms Programs (Grades 4-5) at UHill Elementary please visit: https://uhelegorobotics.wordpress.com/
LEGO Robotics @ UHE Fall 2016 - Week 1


September 19, 2016




3:15 pm - 4:45 pm

LEGO Robotics @ UHE Fall 2016 - Week 2


September 26, 2016




3:15 pm - 4:45 pm

LEGO Robotics @ UHE Fall 2016 - Week 3


October 3, 2016




3:15 pm - 4:45 pm

LEGO Robotics @ UHE Fall 2016 - Week 4


October 17, 2016




3:15 pm - 4:45 pm

LEGO Robotics @ UHE Fall 2016 - Week 5


October 24, 2016




3:15 pm - 4:45 pm

LEGO Robotics @ UHE Fall 2016 - Week 6


November 7, 2016




3:15 pm - 4:45 pm

LEGO Robotics @ UHE Fall 2016 - Week 7


November 14, 2016




3:15 pm - 4:45 pm

LEGO Robotics @ UHE Fall 2016 - Week 8


November 21, 2016




3:15 pm - 4:45 pm